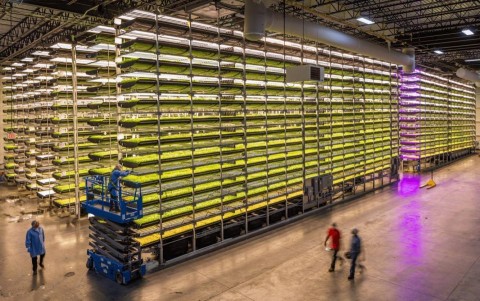 AeroFarms to build $42 million state-of-the art facility
RICHMOND—Governor Ralph Northam today announced that AeroFarms® will invest $42 million to build their largest, most sophisticated indoor vertical farm to date in Cane Creek Centre, a joint industrial park for the City of Danville and Pittsylvania County. AeroFarms uses proprietary aeroponic growing technology to produce highly flavorful leafy greens at a rate 390-times more productive than field-grown plants. Virginia successfully competed with North Carolina for the 150,000-square-foot facility, which will create 92 new jobs.
"AeroFarms is a leader in agricultural innovation with farming technologies that make high-quality, local produce available to more communities," said Governor Northam. "We are bringing capital investment and economic opportunity to rural Virginia by recruiting innovative companies like AeroFarms. I thank the company for choosing Virginia for this important venture and commend Danville-Pittsylvania County for helping to secure this project."
Founded in 2004 and headquartered in Newark, New Jersey, AeroFarms is a mission-driven company committed to growing the best plants possible with processes that use significantly less water and no pesticides, while offering extremely high levels of food safety. By hiring locally and creating year-round employment, AeroFarms is able to grow all year to nourish its communities with high-quality produce that delivers optimal nutrition and flavor.
"Agriculture is Virginia's largest private sector industry, and the Commonwealth continues to be on the forefront of agricultural advancements," said Secretary of Agriculture and Forestry Bettina Ring. "I look forward to working with AeroFarms as they expand the use of agriculture technology to strengthen Virginia's food system and provide increased access to healthy foods."