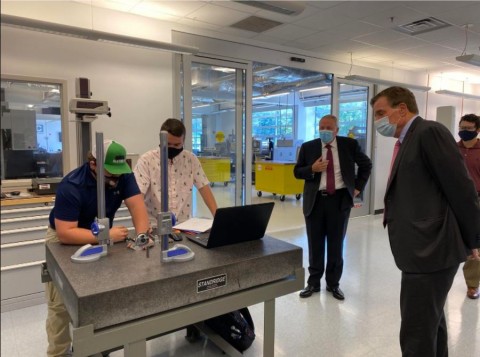 The U.S. Army Contracting Command-Rock Island (ACC-RI) has awarded a $1.78 million contract to the Institute for Advanced Learning and Research (IALR) and Danville Community College (DCC) for a pilot project to develop the prototype training program, Accelerated Training in Defense Manufacturing (ATDM). The base year of the contract includes instructional staff and curriculum development to address workforce gaps for Defense Industrial Base (DIB) companies.
"Thanks to this transformative opportunity from the DoD, the ATDM program will allow us to fill critical workforce gaps while building the capacity of our nation's Defense Industrial Base," said Mark Gignac, Executive Director for IALR, the fiscal agent and ATDM program lead. "We are fortunate to be joined by exemplary partners—DCC, a leader in workforce development programs; Phillips Corporation, a champion of next-generation manufacturing solutions; and The SPECTRUM Group, a consulting firm experienced in the defense industry. I look forward to seeing the program grow under the leadership of IALR's Troy Simpson, and I thank Sen. Mark Warner and other legislators for supporting these efforts."
"Danville Community College's excellence and experience in technical training aligned to industry needs makes our institution the perfect partner for the ATDM pilot program," said Dr. Jacqueline Gill Powell, president of Danville Community College. "This program will provide another unique opportunity for our students while training needed workforce for the defense industry. By leveraging our existing advanced manufacturing infrastructure and industry expert knowledge, we are positioned to support the ATDM program now and into the future."
The initial ATDM pilot will focus on the naval shipbuilding sector and will train skilled workers in the DIB skill gaps of CNC machining, welding, metrology/quality assurance and additive manufacturing.
A fast-track, intensive and targeted program, ATDM offers universal application across the DIB and the inherent flexibility to be customized for specific manufacturing sectors. It also addresses one of the top workforce development priorities of the Department of Defense's (DoD) Industrial Base Analysis and Sustainment (IBAS) program – the need to train skilled workers at scale and velocity to address skill gaps and manpower shortages in the DIB.
The ATDM contract was issued under the CORNERSTONE OTA, an integrated contract vehicle that supports the DoD's IBAS program.
ATDM will support the recently launched IBAS National Imperative in Industrial Skills (NIIS) for the creation of an industrial skills workforce development ecosystem. NIIS aims to close existing industrial workforce skill gaps and improve America's capacity to recruit, train and deliver sufficient numbers of workers with industrial skills to meet defense supply chain requirements.
A major objective of the pilot project will be to evaluate ATDM's contributions to NIIS as a model training platform in a national network of regionally-based training centers serving the various industrial sectors of the DIB.
"Congratulations to the Institute for Advanced Learning and Research and Danville Community College consortium for securing a $1.78 million award from the Department of Defense (DoD) for their workforce training pilot program, as part of DoD's National Imperative for Industrial Skills (NIIS) Initiative, which aims to scale up workforce training for our nation's defense industrial base. The Accelerated Training in Defense Manufacturing pilot program ramps up key skills such as welding, additive manufacturing and metrology, and serves as a model for our nation," said U.S. Sen. Mark R. Warner (D-VA). "Given significant gaps that exist in our nation's defense industrial base, we must pursue innovative models of workforce training such as this one in order to meet our essential national security needs. I'm proud to have been part of today's announcement, and commend all of the hard work that has gone into developing this program. I look forward to seeing the impact of this training in developing indispensable talent for naval shipbuilding. I'm also optimistic about the jobs that this pilot program will create during this difficult time, and the effect that those jobs will have on the regional economy."
IALR and DCC have partnered with Phillips Corporation, one of the nation's largest suppliers of state-of-the-art manufacturing equipment, and The SPECTRUM Group, a leading defense consulting firm.
The public-private consortium consulted with the defense industry to develop the ATDM program.
Alan Phillips, President/CEO of Phillips Corporation, said, "We are proud to be joining IALR, Danville Community College and The Spectrum Group to team on implementing ATDM in the important mission to bridge the skills gap in the USA's Defense Industrial Base. We believe IALR has the ideal combination of strong leadership, excellent infrastructure, resourceful strategic partners and a highly innovative training formula that will enable success in executing the objectives of ATDM. We look forward to contributing our advanced manufacturing industry knowledge in the areas of subtractive and additive metalworking technologies as we partner with IALR to offer compelling and deployable training programs."
"ATDM will take the extraordinary manufacturing and workforce development infrastructure that exists in the Danville region to the national level with the potential to make a significant contribution to our nation's security. SPECTRUM is delighted to be on the Danville team," said Charlie Dale, Partner of The SPECTRUM Group.
The Institute for Advanced Learning and Research serves Virginia as a regional catalyst for economic transformation with applied research, advanced learning, advanced manufacturing, conference center services and economic development efforts.
IALR's major footprint focuses within Southern Virginia, including the counties of Patrick, Henry, Franklin, Pittsylvania, Halifax and Mecklenburg along with the cities of Martinsville and Danville.
For more information, visit www.ialr.org.